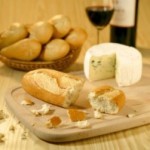 You can think of a baby shower as the last hurrah for a mom-to-be. After all, in a matter of months she's going to be knee-deep in dirty diapers and perpetually sleep-deprived. Doesn't the woman deserve one last chance to feel like a pampered queen? For this reason it's important to ensure that her baby shower is a thoroughly enjoyable affair. What better way to relax than to take her to the French countryside? You don't even have to buy a plane ticket. Here are some tips to for throwing an elegant baby shower that she's sure to remember for years to come.
Make sure to send out baby shower invitations a couple weeks in advance so everyone has time to clear up their schedules. Be sure to throw in a little French into your vocabulary just to really drive home the theme. Though it's not necessary, you and your lady friends can don your best summer dresses and big country hats. With everyone looking fabulous, you're ready to go! Find a CD of traditional French music and play it over the stereo to give everything an authentic vibe. You can even hang round paper lanterns around the room for an added touch.
This is a great chance to try your hand at French cooking! There's so much delicious cuisine out there that you should have no problem finding stuff for everyone to enjoy. French onion soup is quite easy to make and really hits the spot. You can also pick up a few baguettes and an assortment of cheese for everyone to munch on as presents are being opened. Of course, you'll want to pick up a couple bottles of wine as well.
As everyone leaves, you can send them home with goodie bags filled with wonderful favors. A personalized baby shower candy jar is sure to do the trick, and your gal pals will happily take the sweet treats inside! You can also hand out personalized baby shower hand lotion, which will help everyone keep their hands baby soft no matter how dry it gets outside. A French countryside baby shower could be just what you've been looking for to make your friend's milestone a memorable occasion.