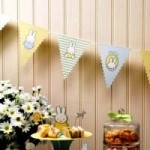 When organising a baby shower you may have already decided on a venue, your home, outside or even somewhere not mentioned here.  Once you know where, you now need to know what to buy.
When you come to BabiesBabies you can get everything in one place.
In our Baby Shower Decorations section we have; balloons, banners, hanging decorations, cake decorations, confetti and table sprinkles and table decorations.  We have pink, blue and neutral for those who are keeping the gender a secret.
Each product we have is described perfectly so you will know what you are receiving and whether you need more or if you need something a little different.
If any help is needed, we have a dedicated customer care team on hand to help, just give us a call.