Return to Previous Page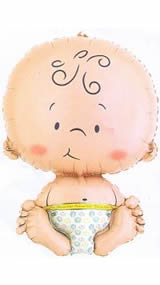 A lovely range of gender neutral baby shower balloons. Perfect if you do not know the sex of the baby to be or trying to keep the gender as a surprise for the birth.

We have a great selection of both packs of latex balloons which can be air filled or inflated with helium along with our special baby shower foil balloons. These foil balloons require helium filling but look great at a baby shower. We have foil balloons that match and compliment our tableware ranges as well as super sized shaped balloons for those wanting to give the WOW FACTOR at the party.