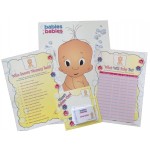 Organising a #babyshower can be quite difficult, especially when it is for someone else. If this is your first time, you may be struggling with; knowing what you should or should not buy? whether you will have enough for amount guests attending? or you may have a budget and need help choosing essentials over novelty? At #BabiesBabies we can help you every step of the way, just give us a call and one of our dedicated customer service advisors will be happy to help.
When it comes to baby showers here at BabiesBabies we pride ourselves on offering the complete baby shower experience. Not only do we have a huge selection of unique and memorable baby shower party games but we also offer baby shower game packs. These game packs have been created to help people get everything they need with one click instead of several. The packs are comprised of our most popular games and each pack is created with guest amounts in mind.
The game packs we offer are; Pack of two baby shower games, baby shower games duo, Trio of fun party games, Three of the best baby shower games, Five of the best baby shower games and finally we offer a deluxe baby shower games pack which includes over eight games, a winners prize and latex balloons.
To complete your baby shower experience you can also see our; #babyshowerdecorations page.