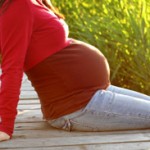 Spring is in the air!  Are you organising a springtime baby shower?
Here are some tips and ideas.
Spring is a very popular time for people to throw baby showers.  There are many reasons behind this; as most pregnancies last for 40 weeks, lots of people are pregnant in spring.  The weather is changing and it starts to get warmer  The days last longer.  Flowers start to sprout and we starts to see new life in baby animals being born.  It is an all around happier time of year.  Who would not want to have a party?  Just remember it is still quite cold, temperatures in the UK are still below 10'c so if you are opting for an outdoors baby shower, try to do it in a garden or somewhere with the option for you to go inside if people start to feel cold.  Not only will this stop people from getting a cold, people will stay longer.
What food and drink to serve?  What better in spring than fresh fruit salads, finger rolls, fresh deli meats, quiches, cupcakes, salad, tropical punch or even flavoured water.  Delicious food that will look right at home in spring.
Everything you need decoration, theme, game and gift wise we have on our website BabiesBabies
For any further tips, advice or help with your baby shower, please give us a call and one of our experts will be happy to help.