Studies show that babies learn better through play. Research shows play also helps babies learn to communicate faster. Talking to Your Baby will help them recognize your mouth movements and help their communication skills. Singing also helps to develop baby's cognitive skills and could actually help them develop into a happier child. Parents are encouraged to use their imagination and be creative when playing with their babies. Use sounds, colour and various textures to stimulate your baby's senses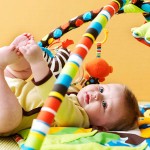 When your baby is lying in her cot, buggy or on a play mat, try to give her interesting things to look at and touch. Placing her in different spots around the house will give her different views too.
Aim to give your baby at least three short sessions of tummy-time every day. Over time, you can gradually increase the length of the sessions until your baby's spending about an hour on her tummy over the course of the day. Once she's more physically active, make sure there are safe places where she can practise rolling, crawling and climbing over obstacles such as cushions.
Keep chatting with your baby about what you're doing, whether it's climbing the stairs or preparing dinner. If you notice your baby is interested in something, talk to her about it. She'll be much more likely to learn from you if she's really excited.