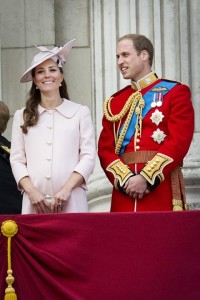 As Kate Middleton and Prince William's baby due date fast approaches, speculation is really mounting over the sex and name of the baby, with Alexandra being the current favourite, which is one of the Queen's middle names.  There have also been some more unusual choices including three bets on Waynetta and two on Mohammed, but Alexandra remains the most popular with Charlotte, Diana, Elizabeth and Victoria following in the top five choices.
Over recent weeks betting shops have seen a flurry of activity at almost "unprecedented" levels as people who would not normally gamble take a flutter on the Royal occasion.  As the due day is fast approaching, activity is also building outside the hospital where Kate is due to give birth.
William Hill has already taken £60,000 worth of bets on the baby's name, and is expecting interest to increase even more as we get closer to the due date in mid-July.  The most popular choice of birth date at the moment is 17th July and the sex of the baby to be a girl.
It has also been announced that babies born on the same day will receive a limited edition silver coin to mark this very special occasion.  Baby betting is booming with turnover expected to be close to £300k over the next week – a big increase on the royal wedding. The betting suggests we're in line for a Princess with a 60/40 split in favour of a girl.
The top ten choices for the baby's name and the current odds are as follows:
Alexandra – 7/2
Charlotte – 11/2
Diana – 7/1
Elizabeth – 7/1
Victoria – 7/1
George – 10/1
Eleanor – 12/1
James – 12/1
Alice – 14/1
Mary – 14/1
So what do you think and what would your guess be?  We look forward to hearing from you.