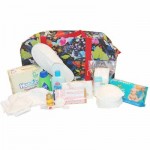 Our Maternity bags give you every necessity you will need, which we will pack for you!
Stuff that goes into hospital bags can typically be divided into two different piles. Pile A: the strictly necessary. Pile B: the fun bits. For the strictly necessary (socks, toothbrush, nappies…), I suggest you have a look here. For the bits that people forget to tell you about, but that might add to your overall sense of wellbeing, check the list below.
Champagne: if there ever was a time when I felt I truly deserved champagne, it was post partum. Most of the major brands do small bottles (200ml) now. It's entirely appropriate to sip them through a straw. And the task of keeping it ice cold for you will keep your partner busy.
Salted almonds: go down extremely well with the champagne.
Smelly candle: there is no nice way to put it; hospitals stink.
Makeup: will make you much keener on taking those early family photos.
A really nice night gown/lounge wear: to wear after the birth.
Paper and pen: to hold on to those earliest thoughts on motherhood.
Truffles: Why? Why not?!
Dry shampoo: the day I decided I could put off washing my hair just one more day, I went into labour. 48 hours and one emergency Caesarean later, and I would have killed for a bottle of Batiste.
A present: another job for your partner. Flowers are a great starting point.