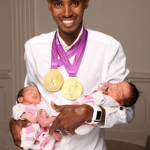 Double Olympic gold medalist MO FARAH has proudly introduced his newborn twin daughters Aisha and Amani exclusively in HELLO! Magazine.
In the article the athlete says: "I dreamt of becoming an Olympic champion and to do it twice in your country with a stadium of 80,000 people shouting your name, it doesn't get better than that.
"Then for my wife to have two healthy little girls, well there's no way to describe it."
His wife 26-year-old Tania, agrees: "It's like a fairy tale. We couldn't ask for anything more"
She goes on to explain: "Twin one, the eldest, is Aisha,Twin two is Amani."
Aisha weighed 5lb 20z while Amani was 4lb 40z.
"We wanted some free stuff from Armani," jokes Mo, before explaining that they wanted Muslim names that began with A.
Mo says he cut the umbilical cord and held the twins first.
They told HELLO! they were both concerned that Tania would go into labour during the Olympics, but they had agreed that they'd keep the news from Mo if this was the case.