We have recently got some more Maclaren products in stock - we have gorgeous stuff from travel packs for baby to gift packs for new mum!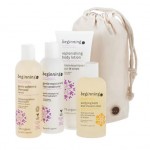 "Purity, nurturing and connection" from the beginning... the beginning range places great emphasis on the need to restore balance and find connection in one's personal life. Most parents, especially those living in an urban environment, are constantly "on", always connected by internet, by phone or fax, which makes it very hard to find harmony and connection within. As stressful routines become a way of life, lines between day and night, work and rest, home and office are blurred, and imbalance creeps into daily life.
With the beginning range we want to remind parents of what is important, to help them find rhythm and harmony in the midst of erratic schedules and a monumental life change, through simple everyday practices that nourish the senses and the spirit, using products that are safe, pure, organic and nurturing.
FIND YOURS NOW AT WWW.SHOWERMYBABY.CO.UK