What baby shower gifts could possibly be fit for a Princess?  and by this we are asking what will Kate Middleton receive at her baby shower, which must be imminent?
Perhaps it will be a Dior sleep suit, diamond encrusted soother, Prada changing bag or anything with an expensive price tag.  But no, as the world's favourite duchess likes to keep things clean, simple, natural, and surprisingly cheap, judging by some of her recent frequented shopping destinations.  Although the royal baby shower is still a rumor and the baby shower registry is just a sniff of an idea, that's not stopping us from speculating on what Kate would want to receive for her little bundle of joy!
However, we can tell you that just yesterday Pippa Middleton bought from us one of our squeeze to ease balls.  Could it be a quirky and novel baby shower gift for her sister Kate we ask ourselves?  Well, why not as this is one of our best selling baby shower gifts and no Mum to be about to go into labour should be without one!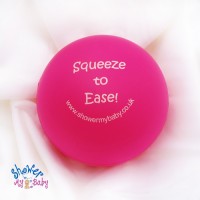 This is such a novel baby shower gift, exclusive to us that will be sure to raise a smile on Mum's face.  Ideal for her to squeeze during labour or to throw at her partner!!
We will send your labour stress ball wrapped in cellophane and tied with hot pink satin ribbon & label saying GOOD LUCK & personalised with Mum's name. For Example GOOD LUCK Kate! or the message of your choice.  A lovely item now ready to give as a unique gift that looks fantastic.
This is also a great gift to give to  a colleague as she goes onto maternity leave or simply to give to a friend when she announces her news that she is pregnant!
Great price at just £2.95