Experts believe that new parents should start massaging their baby from birth as it smoothes the transition from the womb into the world. It can help parents' confidence and both parent and baby can relax and enjoy special bonding time together. Midwifes also suggest that it can improve baby's skin, and reduce the discomforts of wind, colic and constipation. By using a pure baby massage oil, you are able to massage your baby and provide muscle stimulation, but over all spend quality time with your baby.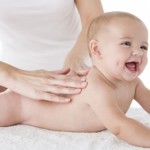 It has also been suggested that massaging premature babies helps with; Improved weight gain, particularly if oils are used. Massage stimulates a key nerve, called the vagus nerve, which connects the brain with important parts of the body, including the stomach. Stimulating this nerve can improve digestion and bowel movement, helping your baby to gain weight.
A more stable heart rate. Massage improves the parts of the nervous system that regulate our organs. So massage can help to keep your premature baby's heart rate steady.