Gender-reveal parties, babymoons ( this is a period of time that parents spend bonding with a recently born baby)  and city-named babies are so last year. 2013 brings its own new trends to the table that are sure to keep expectant mums on their toes. These fresh new fads will make your pregnancy the talk of the town — oh no, wait, that was Kate Middleton's pregnancy…
But, hey! Don't let the Royal Baby steal your thunder. Make your pregnancy news
-worthy with the 5 hot pregnancy trends of 2013.
It's All in the Name
Since emerald is the 2013 colour of the year, it's expected there will be a rise in green-themed names: Hunter, Jade, Fern, Olive, and Forest should be among them. We'll also enjoy a departure from city names, like Brooklyn and Paris, while we shift to state names. The popularity of Downton Abbey is sure to bring a rise to early-20th-century names.
The Year of the Boob
2012 was a big year for breastfeeding insofar as the media coverage it received. And 2013 is certain to bring more boobs to the mouths of babes as the message is still that 'breast is best!' This is the message being shared at pregnancy classes.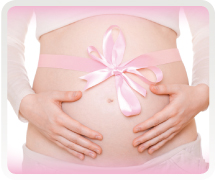 Sooner Social Sharing
Gone are the days of waiting until the 12th week to share your pregnancy. Thanks to Kate Middleton (whether she wanted to or not) for her pregnancy becoming world news before 12 weeks and to the ever-increasing over sharing culture of social media, expectant mums are likely to share the news of their pregnancies -- and ultrasounds, symptoms, and detail after detail -- sooner rather than traditionally waiting until after the 12 week scan.
Neon Nurseries
Hello, hipsters and trend lovers alike! Pale pinks and muted blues are so yesterday. Adding pops of neon -- pillows, walls, throw rugs -- is going to be the thing to do this year.
Party, Party, Party
At-home ultrasound parties to reveal your baby's gender are the next big deal -- blue or pink cakes just don't make the cut anymore. And while baby showers for a second or third or fourth or just-stop-having-kids-now fifth child have long been taboo, they are now becoming the complete norm for any pregnancy because if you did it for your 1st child then why not for your subsequent babies!