Touch is so important to our health and wellbeing. Think about the times when you've felt sad or alone. Didn't a hug from a friend make you feel better? Likewise, your baby also feels better when held and comforted by your loving touch. In fact, studies have shown that touch therapy, including baby massage, contributes to a healthy weight gain, enhanced growth and social development in babies.
Language scientists are now beginning to understand that in many ways, touch is our first language. Gentle and loving touch can help small babies grow stronger and feel less anxiety. In many hospitals and birth centres, newborns are placed on the mother's chest or abdomen to give them as much skin-to-skin contact as possible. The touch between the mother and her baby brings them emotionally close – a process known as bonding or attachment. In fact, in one study, premature infants who were massaged while at the hospital gained more weight and were ready to go home with their parents earlier than preemies who were not massaged.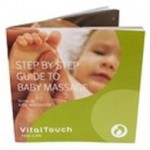 Babies Babies offer both a baby massage oil with a guide to baby massage that has a step-by step guide to carrying out baby massage correctly and offering the most benefit.  As a parent you have the opportunity to set a positive blue print for your baby's life by massaging them gently from birth and as they grow.