No baby shower is complete without party games and Amy & friends certainly chose a fun and varied selection of games to play at the Shower giving Coleen plenty to choose from. We provided some of their best selling games including Pin the dummy on the baby, which was personalised with'Pin the dummy on baby Rooney'  This is a spin on the old favourite pin the tail on the donkey, which we all loved to play when we were little so why not at a baby shower?!!
Who Knows mummy Best Quiz - So how much do you know about the guest of honour? This is a fun quiz asking questions such as 'Where was Mum born?' 'What is her favourite movie?' etc... Guests have been known to get a little competitive with this one, hiding their answer sheets away from other guests so beware of cheats!!!
Prediction Game which allows the guests to guess the weight of the baby, the day he/she will be born and sex if not known,  Of course we all know that Coleen is expecting a boy.
Guess Mum's Tum Size - Hand the reel of ribbon to each guest and ask them to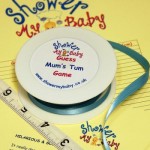 cut off a piece of ribbon the length they think is needed to go around Mummy's Tummy.    Each guest is to measure their piece of ribbon with the tape measure provided.  Record this measurement on the chart provided with this game.
Now you can find out who is the closest - Measure Mummy's Tummy and cut the piece of ribbon.  Measure this and compare the actual measurement with your guest guesses. Whoever has the closest measurement to Mum's is the winner.  A party favourite.
'Cheers' bottle drinking game.  This game will have your guests rolling on the floor laughing. Your guests will have a blast. Simply fill the bottles with a drink of your choice, eg. milk, juice, wine, water etc...... then get ready to play. On Your Marks - Get Set - GO... see who can drink the fastest drink out of the baby bottle.
We guess that the ice was broken at the baby shower with the fun 'My Waters have Broken' game.  These are plastic miniature babies that are set into ice cubes, placed into drinks and the 1st to see the ice cube melted shouts 'My Waters have broken' and is the winner of the game.
And finally Guess Who Knows Who Game?  This fun game involves you obtaining a photograph from your guests of them as a baby. You then stick the photos onto the poster and number each one. Guests are then to write down who they think each of the photograph belongs to.
As you can see, Coleen had a fabulous selection of games at her baby shower and here at Babies Babies, we have over 40 fun games to choose from to suit all personalities of guests attending and styles of baby showers.