Take a look at our new Spring ranges for your baby shower parties.  We have introduced 8 fabulous new ranges to give you lots to choose from. As more and more of us have been to 1 or more baby showers here in the UK, we are looking for something different, new and what our friends and family haven't seen before.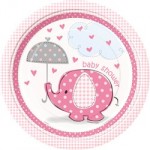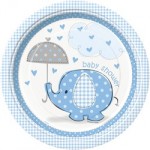 These new ranges offer this and there is something for most tastes.  The themes range from cute woolly sheep to tiny baby feet and cheeky little elephants.  Here at Shower My Baby, we are delighted to offer the following 8 beautiful and high quality ranges for you to enjoy looking at and choosing for your baby shower party:
Pink Umbrellaphants
Blue Umbrellaphants
Girl Pink Plaid - Cute Feet
Boy Blue Plaid - Cute Feet
Animal Crackers - Neutral Range
Ba Ba Sheep - Neutral Range
Blue Teddy Bear
Pink Teddy Bear
Most of these ranges include baby shower invitations, plates, cups, napkins, confetti, table covers, banners, balloons, hanging decorations, favour bags, table centrepieces and more all in the themed range to match and co-ordinate.