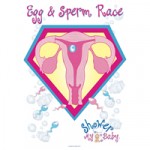 So our latest is a twist on the old favourite and original game we designed, pin the dummy on the baby. This is the fun Egg and Sperm race Game. Priced at £3.95.We are always trying to come up with new and fun games to play at baby shower parties as more and more people are attending baby showers here in the UK.  We are often asked which different games do we have to the ones that were played at the last party attended as it will be the same groups of girls.
This Egg & Sperm Wonder Woman Womb themed game is truly hilarious and will really create the 'fun factor' at your baby shower party.
Based on the children's favourite game - Pin the tail on the Donkey, this game requires you to pin the sperm onto the egg. Simply write your guests names onto the individual sperm stickers and hand to each player. Blindfold each player in turn and turn them around once or twice. Have them step forward and using only one hand, stick the sperm onto the poster bearing in mind that you need to be near the blue egg. After each player takes a turn, the one who sticks the sperm nearest to the egg is the winner.
This game includes:
1 x High quality A3 Size glossy poster
1 x Sheet of 20 adhesive sperm stickers
1 x Prize tag with Winner of Egg & Sperm Race Game printed onto it.