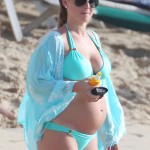 It is now summer and although the weather has been slightly cooler lately, it is starting to hit the high 20's, everyone is feeling the heat.  Those fabulous ladies who are pregnant in the summer months will be feeling the heat more than most.  Here are some tips on how to stay cool in the heat.
* Do your daily tasks early in the morning or later in the evening once the sun is not high in the sky.
* Invest in a fan, you can use it when relaxing around your home and also in bed when the heat will keep you awake.  Also what some people forget is, your baby is going to be a just under one the following summer and a fan is perfect for helping them to sleep in the heat.
* Try to stay away from dark coloured clothing.  Dark colours attract the heat and lighter colours will keep you cooler.
* Carry a spray water around with you.
* Ask for help around the house, try to relax and elevate your feet to help reduce swelling.
* Drink plenty of water throughout the days and take regular naps.
The heat will tire you out and although you may have a busy schedule you must try to take things easier.  Drink plenty and put your feet up.
Swimming is the perfect exercise for pregnancy and the water will help to cool you down, as it usually takes place indoors you will also be sheltered from the heat and the suns rays.
Babies Babies supply Maternity T-Shirts for expectant Mothers to be, which are light and airy, perfect for the summer months.  Just Click the link to view.  http://www.babiesbabies.co.uk/baby-shower/personalised-sashes-and-t-shirts/personalised-maternity-t-shirts.