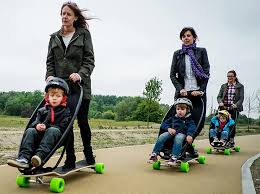 It's a dilemma that many parents face - how to combine their love of skateboarding with the realities of transporting a toddler!  But the problem is solved as now a pushchair has been invented that combines the two.
The longboardstroller, which has been created in Belgium is an elongated skateboard with a pushchair attached.  Its inventor says it will be an environmentally friendly alternative to travelling by bus or car.
PeterVan Riet states, "We were approached by Quinny to make a stroller that you can stand on.  Adults stand and use the handles to steer or they can lean from side to side.  We are thinking about safety features, such as what kind of brake it needs, how to attach the children as well as different board sizes."
So for all you skateboarding fans out there, what do you think and what are your thought?  Let us know.