Looking for a fun game to play at your baby shower that will have all your guests laughing?  Well, here is your answer - The Dirty Nappy Game.  Or as named the Sniff & Lick Game by Coleen Rooney when she was interviewed by fashion expert Mark Heyes on ITV's Lorraine programme.  Coleen was asked about her recent baby shower and commented how much fun this game was which her friends bought from Shower My Baby.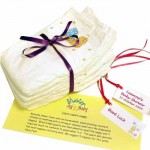 An unusual but fun & popular 'sniff and lick' baby shower game guaranteed to have your guests laughing as you try to guess contents of a nappy.
Basically smear items such as chocolate spread, horseradish, salad dressing, mustard, relishes, melted chocolates or anything with a strong or unusual smell into the disposable nappies.  Blind folded guests are then asked to smell the nappy and if required touch and taste its contents to guess what it is.  The guest who guesses the most nappies correctly wins.
We provide you with 5 new born clean white disposable nappies, which are presented tied with satin ribbon. You will also receive 2 Personalised Prize labels with ribbon for game prizes plus Instructions for the game.  A blindfold mask is also included.
Great value at £4.49.