Return to Previous Page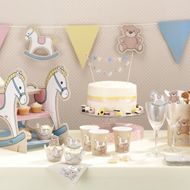 Our beautiful Rock-a-bye Baby Range is fun yet traditional, bringing that classic feel to your party. The whole them is based around a beige brown, pastel pink, pastel blue and Yellow. There are also cute rocking horses and teddy bear images to add a little character.

The Rock-a-Bye range is ideal for baby showers where the sex of the baby is unknown and creates a cute atmostphere with the rocking horses and pastel colours included within the range. This theme also includes a vast range of accessories such as cup cake wraps and picks that make the baby shower extra special.