Return to Previous Page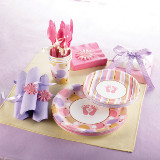 Pink Tiny Toes is an adorable range using the very up to the moment spots & stripes design, finished off with the most adorable pair of baby footprints. Design in very fashionable complimentary colours. Ideal for a baby girl baby shower party.

There are also many baby shower decorations from its own and other ranges that co-ordinate perfectly to make the baby shower that extra special.