Return to Previous Page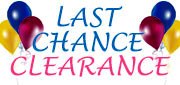 End of line party decorations & tableware at greatly reduced prices! Buy now for a great deal as only a few items of each remaining. These are bargains not to be missed for high quality items. Many items are less than half the full original selling price.

DON'T MISS OUT SO BUY NOW! Items for baby showers, christenings and 1st birthday parties.